The redshirt senior has been one of the more known running backs in the nation over the past two years. Devontae Booker is a guy that runs with power. He's a crafty player that has been the focal point of Utah's offense over the past two years.
At 5-foot-11, 210 pounds, Booker is a smaller, yet bigger running back prospect. Obviously, the biggest concern with him will be his speed. Booker has been reported to run a 4.56 40-yard dash. Sure Le'Veon Bell ran a 4.6, but something still needs to be said about Booker's home-run speed. Let's take a look at the tape and see how Booker projects to the NFL.
The first thing I notice with Booker is his pass-catching ability. Having a weapon like Booker would give the Dallas Cowboys both a talented runner and a reliable pass-catcher.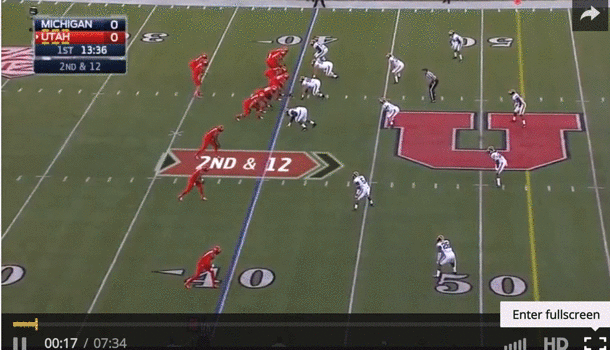 Because of his low center of gravity, Booker does an excellent job at escaping tackles. Breaking tackles comes very easy to him, as is the case by this GIF.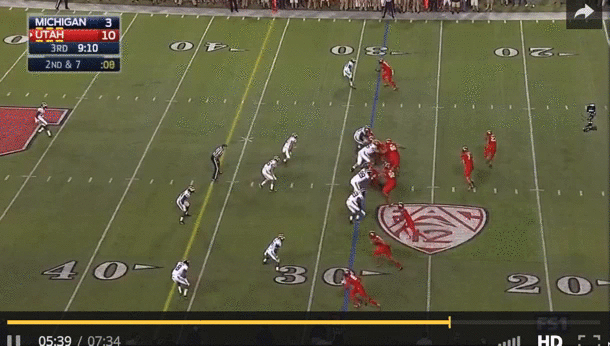 Something that makes Booker so special is how creative he is. In this GIF, Booker does an excellent job at finding space in the defense and using his quick feet to get into those holes.
The next GIF is extremely interesting. It's simply amazing how Booker scores on this play. He sheds off multiple tackles, including one gang-tackle. However, as he's running to the endzone, Booker is holding the ball in his left hand, despite running next to the right side of the sideline. This is Football 101. Booker just simply cannot do that.
Here's another example of Booker's ability in the pass-catching department and how gifted he is at picking up yards, even though there may not be a ton of yards to be picked up.
I'm going to continue to hit on this. Booker's field vision is absolutely incredible. I honestly can't imagine how he would behind the Cowboys' offensive line.
There are sure some knocks on Booker because of his straight-line speed, but he hits the hole extremely hard here. He's also always churning to pick up a few extra yards before he goes down.
Because Booker is so strong and he always keeps his legs moving, it allows him to win battles when defenders are trying to tackle him.
Booker's power is on full display again in this GIF.
We see Booker's lack of straight-line speed here, as he struggles with scoring a touchdown despite having a clear path of the endzone.
I walked about from the Booker tape extremely impressed by what he can do. He's a powerful runner, who fits the mold of an NFL workhorse back. There also a few deterrents, such as lack of speed, his favoritism to putting the ball in his left arm, and the concern for fumbling because of the previous problem.
Despite his lack of speed, the biggest concern I have with Booker is his age. When Week 1 of the 2016 NFL season rolls around, Booker will already be 24 years old.
How would Booker fit in Dallas? Darren McFadden has played nothing less than fantastic as a member of the Cowboys. However, he doesn't necessarily fit the zone-blocking scheme mold the Cowboys are coveting in their running back. Booker fits that perfectly, in fact maybe better than any other running back in this draft class. Booker is a really solid player and I think the Cowboys should make a play on him in Rounds 2 or 3 when the draft rolls around.
Games watched: Michigan, California, UCLA, and Oregon State (2014).
Next up on the docket: C.J. Prosise