It came in bits and pieces, but last night we finally got the complete 2021 regular-season schedule for the Dallas Cowboys. While detailed analysis of our opponents is better served much closer to kickoff, here are some gut reactions I had to the announced schedule.
For quick reference, here is the 2021 preseason and regular-season schedule: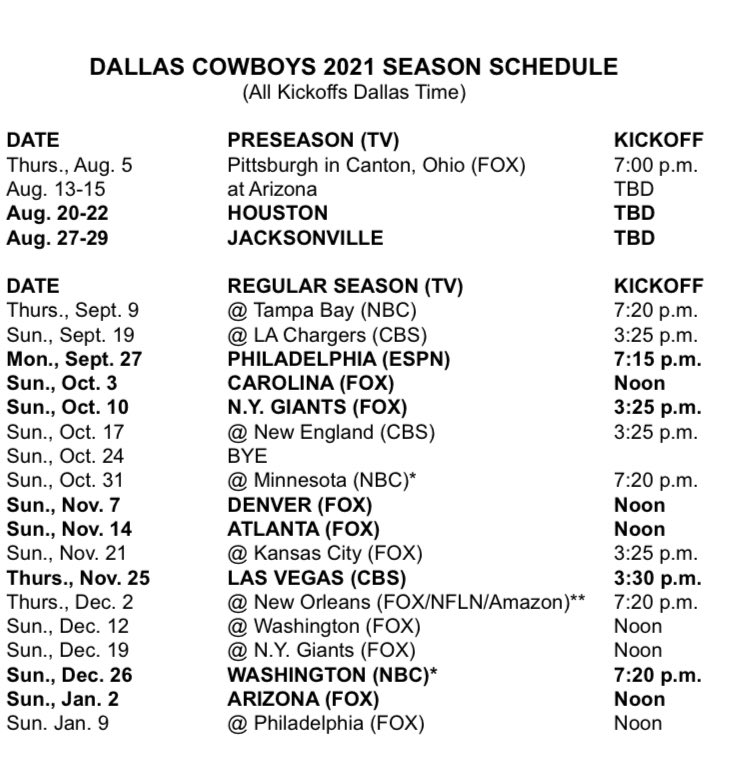 1. Wait… FOUR preseason games?!
If your brain is as mushy as mine is after the last 14 months, you probably forgot that the Cowboys-Steelers Hall of Fame Game from the 2020 preseason was postponed to this year. So when I first saw that Dallas had four preseason games on the schedule, I was a bit perplexed.
As you likely know, the NFL reduced the preseason to three weeks in 2021 as a tradeoff to adding a 17th game to the regular season. But just as two teams used to play five preseason games every year if they got the Hall of Fame opener, Dallas and Pittsburgh will get that extra game in 2021 on top of the standard three.
An extra preseason games certainly doesn't hurt for this year's Cowboys. Between backup quarterback and almost every spot on defense, there is a lot to figure out as they sift through this roster to find the best 53 players. An extra game of snaps for these players could prove very useful to the evaluation process.
2. Good balance throughout the year.
My immediate thought when I saw those first two weeks was not pleasant; two road games on opposite ends of the country. But with the season opener against Tampa Bay being on a Thursday you have extra rest in between. Plus, travel isn't really the detriment it used to be.
The balance comes with a three-game home stretch from Weeks 3-5, two of which are against Philly and New York for our first division games. Dallas has a nice chance to build momentum in the NFC East early in the season.
Throughout the year there isn't really one particularly awful multiweek period. The six games following the bye may be the toughest stretch with lots of relatively unfamiliar opponents from the AFC West. But aside from the Chiefs, the Cowboys shouldn't go into any of those games as a heavy underdog.
3. Yeah, about that Kansas City game…
Playing the two-time AFC Champions on the road wasn't going to be a fun assignment no matter where it fell on the schedule. But in Week 11, near the end of an already difficult stretch, and just before Thanksgiving; that's a tough draw.
The good news is that the Chiefs will be coming off a Sunday Night Football game on the road in Las Vegas the week before. So at the very least, Dallas will have a little extra rest and KC may have a little letdown potential after a big division rivalry game.
We're all excited to see Dak Prescott and Pat Mahomes square off for the first time in their careers. Hopefully the Cowboys still have plenty left in the tank when the big day comes.
4. Nice spot for the bye week.
One of the first things I always look for is where the bye week falls. While I always prefer it more to the middle to end of the season, this season's bye is in Week 7 and there are some pros to that in 2021.
Dallas will still have 11 games to go following this year's bye week. From a rest and health standpoint that can be a downside, but it could be a positive given some of the major shakeups on the roster this season.
The bye week is your best chance to tweak some things that aren't working right, getting that extra weeks for analysis and implementation of needed changes. With a brand new defensive coordinator and a lot of new players working under him, the Cowboys may find that bye week is a valuable opportunity to rework some things with two-thirds of the season still to play.
5. Washington twice in three weeks.
If both the Cowboys and the Football Team are contenders in the NFC East this year it's going to make for a very interesting December. Both games between them are backloaded on the schedule in Weeks 14 and 16.
So little time between the games means certain factors, especially injuries, could have extra impact. If a starting QB goes down for just a few weeks, he could wind up missing both meetings between Dallas and Washington.
Right now these are the two projected winners in the NFC East by most sources. By placing these games where they have in December, the NFL seems to agree with that probability.