One of the Cowboys' biggest free agents in 2022 will be Wide Receiver Michael Gallup. In a recent interview, Gallup commented on his impending free agency and one statement in particular could make a potential return to Dallas unlikely.
We already know that the Cowboys have a fight on their hands this offseason with the salary cap. They're currently around $13 million over the 2022 cap and will have to make some tough decisions just to conduct basic business like signing their next draft class and filling critical roster vacancies.
Despite his season-ending ACL injury from Week 17, Gallup doesn't isn't looking to take any hit to his next contract. It also doesn't sound like he's going to to give Dallas any hometown discount to return.
Given his mentality and where the team is at, Michael re-signing with the Cowboys in 2022 isn't looking promising.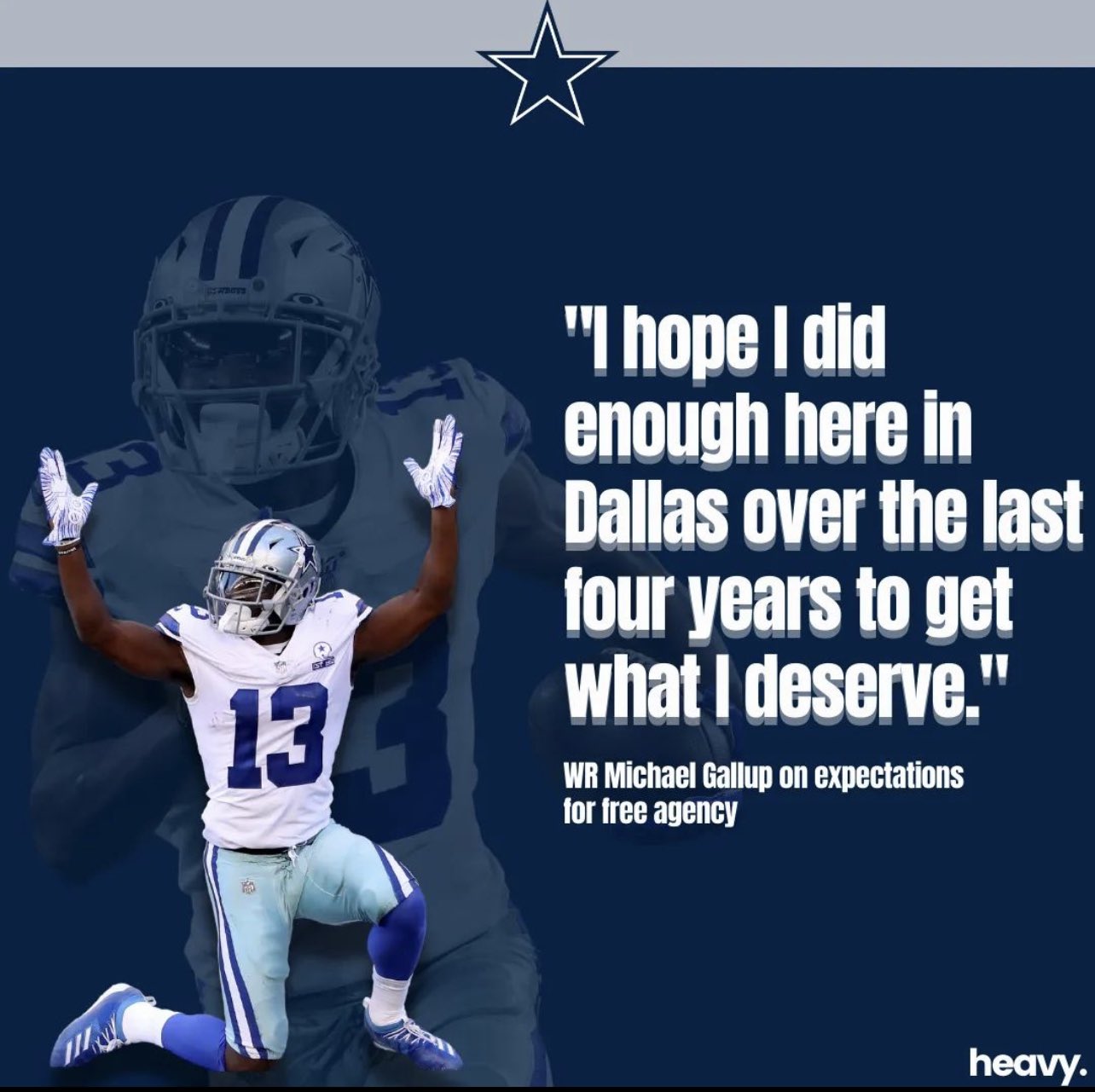 🚨EXCLUSIVE🚨: Chopped it up with #Cowboys 🤠 free agent WR Michael Gallup: "I hope I did enough here in #Dallas over the last four years to get what I deserve." Much more 🔥 here during our candid talk. #CowboysNation #dc4l #FantasyFootball https://t.co/EVPy1t2PqB

— Jonathan Adams (@JonDAdams) February 9, 2022
While Dallas would love to keep their three-headed WR monster in place along with Amari Cooper and CeeDee Lamb, retaining Gallup at this point feels more like a luxury than necessity. And based on these comments, Michael is looking to be a true starter in the NFL and compensated accordingly.
Over the last four years Gallup has given the Cowboys an incredible return as just a former 3rd-Round pick. He had over 1,100 receiving yards in 2019 and at times has seemed to be Dak Prescott's favorite target.
Gallup's overall production has taken a hit since Lamb joined in 2020 but Michael remains a talented receiver in his physical prime. He is expected to be one of the more attractive free agent options this offseason.
The ACL injury is where things will get interesting. Having just had surgery this past Thursday, Gallup's rehab and recovery will make it hard for him to participate much in training camp and preseason this year. That could limit some teams' enthusiasm to sign him and especially to a significant amount of money.
But even if Gallup's asking price ends up going down, it will take a lot for him to fit into the Cowboys' likely budget. They're more likely to seek a more modest deal with Cedrick Wilson than meet what Michael is apparently going to demand.
In truth, we haven't expected Michael Gallup to get a second contract with Dallas for a while now based on the salary cap and what they already have at wide receiver. But these comments from Gallup only further show the line in the sand.