The Dallas Cowboys week 11 opponent is reeling a bit after a 2-0-1 start with wins over the Los Angeles Chargers and the Philadelphia Eagles, the Detroit Lions have lost five of their last six and now sit in last place in the NFC North at 2-5-1. It's been a weird season for the Lions and now may play the Dallas Cowboys this week without Matthew Stafford who's been playing some of the best football of his career in 2019.
Though Stafford may not be available, the Lions have a plethora of targets for backup quarterback Jeff Driskell to throw to.
Wide Receivers Kenny Golladay, Marvin Jones, Danny Amendola, Tight End T.J. Hockenson, and Running Back J.D. McKissic provide Detroit with a bounty of players who will challenge the Cowboys secondary in the passing game.
Rushing & Receiving Table
Game
Rece
Rece
Rece
Rece
Rece
Rece
Rece
Rece
Rece
Rece
No.
Player
Pos
G
Tgt
▼
Rec
Yds
Y/R
TD
Lng
R/G
Y/G
Ctch%
Y/Tgt
19
Kenny Golladay
WR
9
71
38
697
18.3
8
66
4.2
77.4
53.5%
9.8
11
Marvin Jones
WR
9
63
47
612
13.0
6
47
5.2
68.0
74.6%
9.7
80
Danny Amendola
wr
8
52
35
405
11.6
1
47
4.4
50.6
67.3%
7.8
88
T.J. Hockenson
TE
9
44
25
343
13.7
2
39
2.8
38.1
56.8%
7.8
41
J.D. McKissic
rb
9
24
19
134
7.1
1
26
2.1
14.9
79.2%
5.6
Team Total
9
327
214
2768
12.9
20
66
23.8
307.6
65.4%
Opp Total
9
205
2452
12.0
19
22.8
272.4
Kenny Golladay and Marvin Jones are one of the more underrated receiving tandems in the NFL. The Lions are just one of four teams that have two players with at least 600 receiving yards on the season.
Golladay and Jones have been excellent this season. Both have made big plays in the passing game and if you along with Hockenson, Amendola, and McKissic, the Lions have a deep group of pass catchers that could give the Cowboys fits this Sunday.
The Cowboys defense has been up and down this season in both the run and pass game. They've been hit for big plays on both sides of the field and by a variety of positional players through the first nine games of the season. The linebackers have struggled with play-action and in the screen game. Chidobe Awuzie has had difficulty finding the ball and giving up big plays. Byron Jones, who is generally one of the better cover corners in the NFL, but had difficulty with Stefon Diggs last week.
The fact that the Lions have so many good players to throw to means they can avoid throwing to Byron Jones' side of the field and target Awuzie, the Cowboys' biggest weakness in pass defense. The Lions will be able to mix and match their receiver alignments to put the Cowboys in difficult positions with their scheme. From front to back, everyone will have to stay disciplined in their man and zone coverages to not get beat for any big plays.
The Cowboys may want to scheme some extra help to Chidobe Awuize's side of the field as he's struggled to find the ball in 50-50 situations, where Kenny Golladay and Marvin Jones excel. The other key will be for Jourdan Lewis, who will likely end up in coverage against Amendola most of the time. He and the linebackers will need to tackle Amendola and McKissic better than they did Dalvin Cook in the open field as Driskell will likely be forced to dump it off quickly to avoid being affected by the pass rush.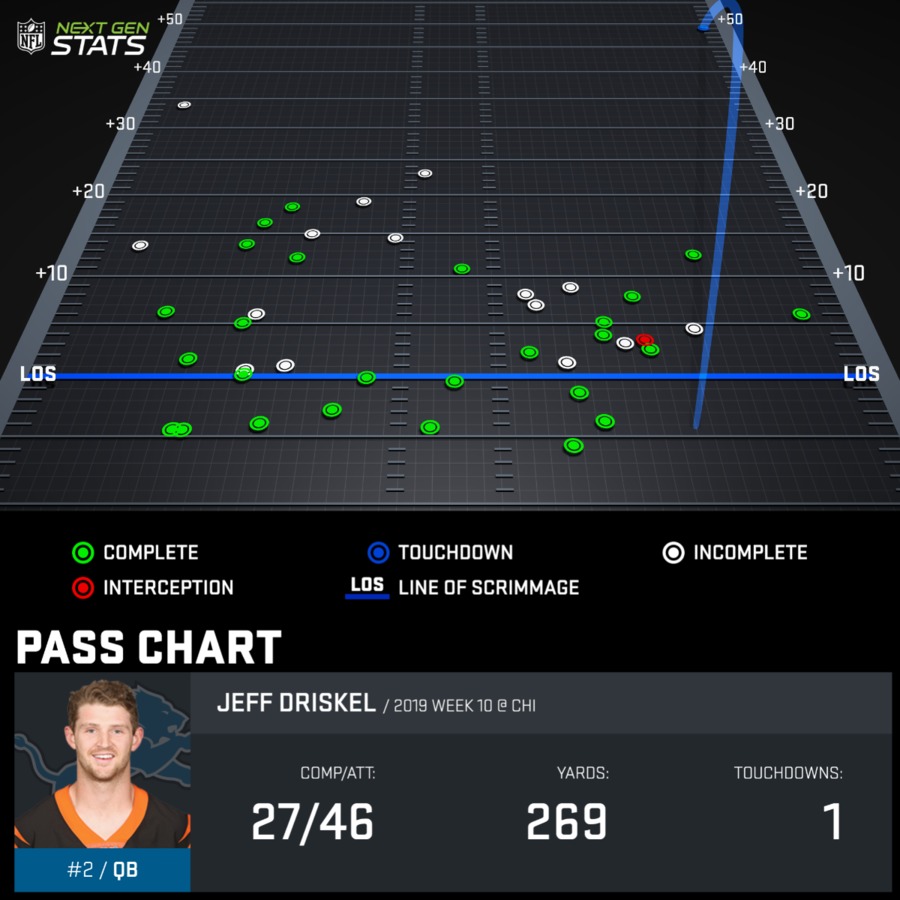 11 of Driskel's 27 completions against the Chicago Bears were at or behind the line of scrimmage and 48% of his passing yardage came after the catch. For comparison, in week 10 against the Cowboys, Kirk Cousins completed eight of his 23 passes at or behind the line of scrimmage and an insane 65% of his yards came after the catch.
The Lions record hasn't been able to run the ball very effectively this year, even before Kerryon Johnson. They rank 20th in the NFL in total rushing, but fifth in the NFL in passing, so the Cowboys will have to be more disciplined in coverage and have to team tackle to get off the field.
It's a huge game for the Dallas Cowboys if they want to improve their chances of making the playoffs. They don't have the luxury of dropping a game like this to a team they should absolutely beat. In a tie with the Philadelphia Eagles atop the NFC East and with only seven games left of the season, pretty much every game from here on out is a must-win game.